Bluebell heaven is a place on earth
From the delicate white hopes of snowdrops in deep winter to beds of daffodils as spring appears, some wild bulbs have become indelibly linked with the advance of the English year. The bluebell might be the one most truly associated with the British Isles.
And as with Wordsworth's host of daffodils, it's really that sweep of bluebells in woodland that is the sight that gets wildflower groupies' hearts racing – and sometimes even travel some distance to see. If you want to get the full bluebell experience, do try and pick a warm, sunny and slightly humid day. Then not only the colour will look glorious, but you'll be able to enjoy that overwhelming scent that is so evocative of this point in spring.
Where the bluebells grow
Bluebells are generally woodland plants, although they're happy to break out in verges and pastures if they can get some warmth and damp. The only place you won't find them is in pine forests; the soil is too acidic for them.
There's a bit of confusion about the difference between Spanish bluebells and native bluebells – and even more confusingly, you'll find both growing wild thanks to some energetic garden break-outs. Our native bluebell is usually a deep blue with hint of purple – although there are white and pink varieties to mix it up a bit.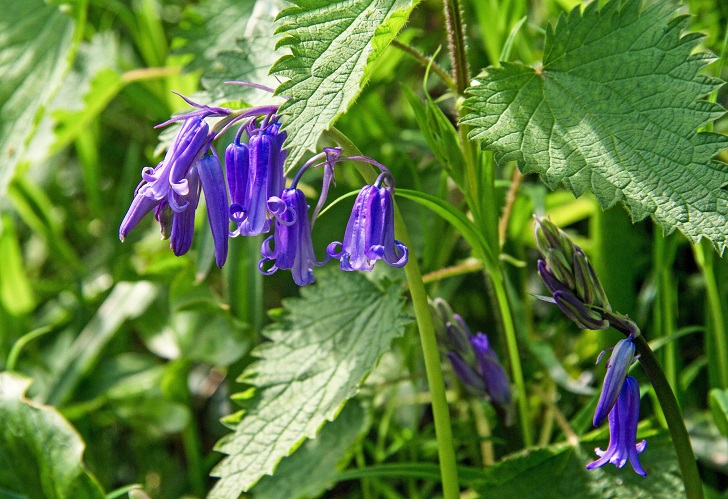 However, it also crosses easily with the Spanish bluebell, a stouter and more upright plant that can be mauve or pink as well as blue and white – hence the many hybrids we see that can also produce crosses. If you're looking at a bluebell with a distinctive delicate drooping head on bell-shaped flowers with curled up tips and white creamy pollen, it's a native bluebell – and if you get a waft of scent you can be absolutely certain.
You can enjoy bluebells in woods all across the country as spring spreads north. Want to see a real bluebell extravaganza? Here are our six areas for a scent of the true blues in spring.
Greater London
It might seem counterintuitive to come to the big city to see bluebells, but Greater London still has remnants of ancient woodland where bluebells flourish or parkland with more recent planting.
Oxleas Wood in southeast London is one of the former, as is Highgate Wood in the north. Parts of Hampstead Heath in north London have patches of bluebells, especially near Kenwood House, while out west, the Isabella Plantation in Richmond Park has a walk through a carpet of bluebells as well azaleas and rhododendrons on show.
The Chilterns
Going out of the capital, Warburg Nature Reserve in the Chilterns has classic woodland conditions for bluebells and promises a spring spectacular. Run by the Berkshire, Buckinghamshire and Oxfordshire Wildlife Trust, it has a range of walks and activities on their website for you to get the best out of your visit.
North west
In the north west, Lancashire has several good areas for bluebell spotting. Close to Preston, for example, is, Red Scar and Boilton Wood, a designated Site of Special Scientific Interest (SSSI), which has good bluebell conditions with the River Ribble close by. It's also across the road from Grizedale Wood – another good shout for bluebells in the area.
North east
Just south of Morpeth in Northumberland is Plessey Woods, a country park with woodland, meadow and river – ideal conditions for bluebells and well worth a visit. Locally, it's often known as 'Bluebell Woods'! It can be reached by bus from Newcastle or Morpeth and has parking and a visitor centre – with some paths accessible for buggies and wheelchairs.
Midlands
The National Forest has several woods with bluebells come spring. Despite having been used for planting pines commercially, the remnants of ancient woodland at Jackson's Bank near Yoxall provide good bluebell sites, and form part of an a SSSI with the neighbouring Brakenhurst Wood.
Over in Leicestershire, Swithland Wood across from the northern edge of Bradgate Park is another SSSI that's known for its sweep of bluebells.
Lickey Hills country park west of Birmingham is also known for its bluebells, especially around the south end of the park.
South and south west England
Further south west, Long Wood in the Somerset Wildlife Trust's Cheddar Gorge collection of woods is a favourite bluebell wood, while slightly further north towards Bristol is Weston Big Wood managed by Avon Wildlife Trust.
Right across the south of England there are woods carpeted with the big blue in the next couple of months. Forestry England's Micheldever Wood near Winchester is a favourite with paths laid out to wander and space for picnics.
South east
There are woods aplenty in Surrey, Sussex and Kent that have bluebells so there is sure to be at least one near you. Good places in Kent include woodlands near Shoreham such as Meenfield wood, and Ide Hill near Sevenoaks. The South Downs National Park has a useful list of good bluebell sites within its boundaries, while Bluebell Wood near Dorking and Banstead Woods are good bluebell hunting grounds in Surrey. Surrey Wildlife Trust manages Sheepleas on the North Downs which has the right conditions for lots of spring flowers, including bluebells.
Go local
These are just a few of very many places you can find bluebells, from small patches to wonderful woodland sweeps. Wherever you are it's worth looking on local websites for tips of the best bluebell walks to be had – and joining your local CPRE, as they'll have top tips for prime spots and may even have organised walks or litter picks to join.
If you want to guarantee bluebells in your garden, make sure you get any bulbs from a reputable garden supplier. Under the Wildlife and Countryside Act of 1981 it's illegal to uproot bulbs – and it's only good manners to not pick them but to leave them in their glory for others to enjoy.
Remember, wherever you go bluebell hunting this spring, stick to the paths; these aren't plants that enjoy being trampled on. Take only photos – and a deep breath to catch that gorgeous scent.