Focused foraging: finding seasonal autumn food
Foraging helps us appreciate nature's finer details and can work wonders for our wellbeing. Above all, it remains a fantastic source of seasonal food – and CPRE's Jane Seymour tells us how to find it.
A country walk in search of something wild to eat – or preserve for the store cupboard – is a pleasure for many of us. In fact, foraging's combination of exercise, seasonal food and mindfulness makes it a great way to regenerate mind and body.
With September's days of warm sun ripening the berries and nuts in our hedgerows, and its frequent showers encouraging fungi to flourish in damp meadows and the roots and stumps of old trees, now's the perfect time to see what tasty treats your local countryside has to offer.
'With any luck, you'll make deeper connections with the landscape around you.'
With any luck, you'll make deeper connections with the landscape around you, taking your mind off day-to-day worries as you contemplate the fruits of your labour.
Berry-time
Despite their association with autumn, blackberries are already coming to an end in some areas by late summer, and if not eaten by fellow foragers, human or otherwise, will be past their best. Indeed, Michaelmas Day on 29 September was said to be the day the devil spits on them so it was considered particularly unwise to eat them after that date (or 10 October if you're willing to risk the devil keeping to the old Julian calendar).
'Michaelmas Day on 29 September was said to be the day the devil spits on them...'
Brambles are hedgerow plants, so you're likely to find some on most country walks, but any rough ground is likely to throw up some blackberries as they're resilient and persistent. The darker and juicier the better – and the few that make it home will be good for pies or jams.
If you're out and about on the acid soils of heath or moor, you may find bilberries rather than blackberries: sometimes called 'whorts' or wimberries. Bluish in colour, they're low down, and harder on the back to pick than blackberries, but still make a great pie.
It's the elderflowers that are so prized in spring for making cordial, but this time of year it's the berries that are weighing down elder branches. Common across the country, they are usually found in hedgerows and on the edge of woods and copses.
They're not recommended for eating raw although a nibble is unlikely to hurt, but are a good flavour – and colour – for fruit vinegar and are particularly prized for wine-making.
The fruit of the blackthorn, more usually known as sloes, are another hedgerow fruit to look out for at this time of year – a similar blue to bilberries. They're also for flavouring rather than nibbling – pick now to make sloe gin in time for Christmas.
Traditionally, they were said to be best for soaking after the first frost – but that effect can nowadays be replicated by popping them into the freezer. And you'll need a few handfuls, half a bottle's worth, to get that rich dark liquid.
Going nuts
This time of year provides a rare occasion to eat fresh nuts in this country – a different experience than the dried and roasted ones we're used to. Other than the occasional tree that's escaped cultivation, it's sweet chestnuts or hazel that you're most likely to find, or maybe a walnut if you're lucky.
Hazel trees coppice well (meaning they regrow heartily on being cut back) and so have long been valued in rural England for providing fast-growing wood for flexible sticks and poles. As a result, they are common in open woodland and often show signs of being coppiced at some point in their history.
Fresh hazel nuts, and the cultivated 'cob' nuts, have a gentler taste than the ones we get in our breakfast cereal and are well worth seeking out. And if you don't find them on your wanderings, do try and find some cobnuts at a farmers market – the season's short, so be quick!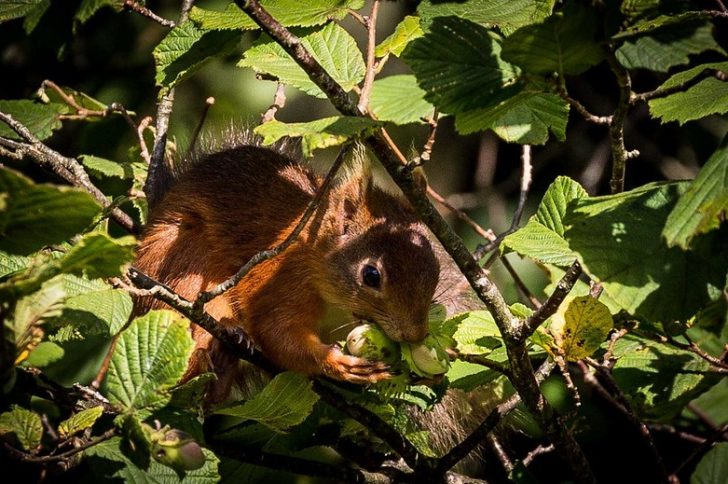 Sweet chestnuts shouldn't be confused with the conkers that are horse chestnuts. Sweet ones have darker, more leathery leaves, and the chestnuts have much finer dense covering of spines/prickles.
Young ones can be eaten raw but are better roasted – boiled if you're making a spread. If you are roasting them, don't forget to slice into the skins first – exploding chestnuts can make a noisy mess in the oven.
Fungi focus
We're also getting to the best time of year for fungi, but if you're not confident in your identification, focus on finding them rather than eating them – there's no harm spotting a few to get your eye in.
The most popular chanterelles are one of those things that once you've seen, you can't stop seeing them – they're most common down among the leaf litter and moss in open forests. Their golden colour and little funnel shape makes them fairly distinct once you know what you're looking for, but there are a few rivals that can confuse, including the helpfully named false chanterelle, which is more common in pine forests.
They're not very fast growing so if you are a confident picker, only take what you need – and as with all foraging, leave no trace and be very careful that you're identifying the right crop. Some fungi can be harmful, so take no chances.
An easy spot are the puffballs, giant and common, and have little that looks like them. They're found on road verges and in woodland. Both giant and common are edible although common ones need a lot of peeling for little flesh.
If you want a classic mushroom shape, it's a bolete you're looking for. The brown birch bolete is, not surprisingly, most common in birch forests, but the bay bolete is more common across the country, especially in beech woods.
'These are best picked young or you risk a mouthful of maggots with your mushroom.'
The latter's a bit tastier but best picked young or you risk a mouthful of maggots with your mushroom. With a distinct brown cap, a very upright stem and yellow tubes that bruise a bluish-grey, they start to appear in late August and are commonly found for the next two months.
Best of all the boletes is the cep or porcini, commonly called penny buns for their just-baked-look caps and chunky stems. Again, they're best when young – you're more likely to find them after rain, mainly in oak or beech woodlands.
At this time of year, there are many other fruits and berries around so take time to get to know your area, what's plentiful and what you're likely to see in different seasons. And make sure you leave enough for your local wildlife – that way you're bound to see some of them, too.
What late summer or early autumn treasures have you seen? Let us know on the CPRE Twitter, Facebook or Instagram. And happy foraging!